Air Flow through the Vacuum Cleaner System
Air flow is the movement of air from one location to another. In a vacuum cleaner, it generally refers to the movement of air through the vacuum cleaner or central vacuum system. It, combined with agitation, is the most important aspect of cleaning with a vacuum cleaner. It is the force exerted by the moving air which actually picks up the dirt and moves it into the bag or dirt container.
You will sometimes see the Air Flow in Cubic Feet Per Minute (CFM) rated for a vacuum cleaner. While the air flow rating is not a direct rating of the power of the suction motor, it is affected by its suction.
The air flow rating is typically obtained by measuring the air flow through the vacuum cleaner with no hose nor attachments connected to it.
Keep in mind that the same air moves through the entire vacuum cleaner system so the actual air flow in use is proportional to the amount of suction produced by the motor and inversely proportional to the total resistance to air flow throughout the system.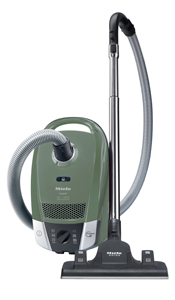 The air is motivated to move by the reduced air pressure created by the suction motor. The easier it is for the air to flow, the better the cleaning performance will be. Also, the stronger the suction created by the suction motor is, the better the air flow will be. There are many variables which affect the actual air flow in a system which are not reflected in the air flow rating. In addition to the resistance within the actual vacuum cleaner, there is resistance caused by air turbulence in the hose and tubing, restriction where the cleaning nozzle contacts the floor, as well as increased resistance within the filtration system as the unit fills with dirt. Therefore it is important to compare the sealed suction along with the air flow when comparing canisters, power teams, and central vacuum systems.
The quality of the paper bag can have a significant impact on the air flow through the system. While the bag's filter media must be able to stop the fine dust and allergens, it should present the least amount of resistance to air flow that is possible. The total resistance of the paper bag is inversely proportional to the total area of the filter media. In other words, doubling the area of a paper bag's surface will cut the total resistance to air flow in half. Therefore, if two different size bags are constructed of the same quality filter media, the larger one will enhance the cleaning performance by making it easier for the air to flow.