When shopping for vacuum cleaners, many consumers are overwhelmed by the variety of vacuums offered and the features they carry. It can be difficult to walk into a store, look at ten different machines, and purchase the cleaner that is ideal for your cleaning needs. The key to deciding what is right for you requires an understanding of your home environment and your own personal preferences.
This section addresses the types of vacuum cleaners offered and helps you determine which vacuum is right for you. Despite the many claims from manufacturers, there is no one vacuum cleaner that is right for everybody. Each home environment is different and some machines are simply better suited for specific situations. For example:
Is your home mostly carpet, hardwood floors, or both?
Do you have stairs or a second floor to clean?
Does someone in your home suffer from allergies or asthma?
Are you looking for something built to last or just to get you by?
As you can see, there are many issues to consider before making a purchasing decision. Let's a look at the different types of vacuum cleaners and under what conditions they are ideal.
[symple_accordion_section title="Filtration Information"]
For those concerned about indoor air quality, it means a cleaner home environment and, generally, a reduction of allergic reactions in occupants.
Consumers today are more concerned than ever about indoor air quality and a cleaner home environment. The EPA reports that indoor air pollution can be 2 to 5 times worse than outdoor air pollution.
There are three ways to improve indoor air quality:
Eliminate the source of pollutant
Iintroduce fresh air into the home
Use a filtration system to remove particles
Filtration systems to remove particles are key to vacuum cleaner purchases. Because consumers are concerned about indoor air quality (IAQ), vacuum cleaner manufacturers have responded with a variety of technologies to improve air quality–HEPA, HEPA type, electrostatic, 3M Filtrete™.
[/symple_accordion_section]
[symple_accordion_section title="So which is best? More importantly, which is best for my home environment?"]
Let's take a look at the two major technologies.
Originally designed for scientific clean rooms, HEPA is a material that offers a filtration performance of 99.997% efficiency at .03 microns (a human hair is 40 microns in width, a dust mite is 5 microns in size).
Though offering excellent filtration performance, the material is restrictive to airflow–and airflow, as discussed earlier, is needed for effective carpet cleaning. Many companies tout HEPA for machines costing less than $140. This is because HEPA is not a standard regulated by any government or scientific committee. It's easy for any vacuum brand to label a vacuum as HEPA.
Just because a vacuum cleaner contains some HEPA filtering media doesn't mean the vacuum offers HEPA filtration performance. HEPA is a slow airflow media and vacuum cleaners are higher airflow machines. If the air can't go through the HEPA material, it will go around, which it does in most cases.
There are vacuum cleaners that do offer true HEPA performance. These machines typically cost over $200, with annual replacement HEPA filters costing $60 to $80. When in a vacuum cleaner store, compare a HEPA filter from a more expensive machine to a HEPA filter from a machine typically sold at a superstore. There are major differences and it is clear that HEPA is not a regulated standard, which confuses consumers.
A second popular form of filtration on the market is electrostatic filtration. Electrostatic filtration is a super-efficient medium designed for high airflow performance with a unique quality that attracts dust particles.
Air flowing through the media creates and sustains an electromagnetic charge. This attracts fine dust particles. The result is a high-performing filtration technology ideally suited for high airflow appliances like vacuum cleaners. The most popular brand of electrostatic media is Filtrete™ by 3M. Filtrete™ electrostatic media was originally developed for hospital incubators and respirators. It has since broadened to a wide line of products requiring microfiltration performance.
The 3M company has now partnered with the American Lung Association through the Health House project to promote awareness of and solutions to the problem of poor indoor air quality. For households where occupants suffer from allergic reactions to pollen, dust mites, and tobacco smoke or for those demanding a cleaner indoor environment, it is highly recommended that a vacuum cleaner purchase feature either of these technologies.
Consumer Reports has tested vacuum cleaners with both types of technologies and has concluded both offer the same "excellent" ratings compared to vacuum cleaners without HEPA or electrostatic filtration.
[/symple_accordion_section]
[symple_accordion_section title="Ideal for homes with a lot of wall-to-wall carpeting"]
Upright vacuum cleaners are by far the most popular type of vacuum cleaner in the United States. Uprights are excellent for homes that feature significant wall-to-wall plush carpeting. In recent years, many features have been added to uprights that make them better at cleaning hard floor surfaces as well as above-floor cleaning (i.e. drapes, stairs).
Uprights are available with a variety of tool configurations — from no tools to a complete set of on-board tools. On-board tools will make an upright heavier but they eliminate the need to own a separate vacuum for above floor cleaning.
Some uprights have a feature which turns off the brushroll. This is beneficial when using attachments or tools for above-floor cleaning. This feature also allows the upright to clean hardwood floors. With the brushroll turned off, dirt and debris are not scattered.
An upright is easier to use than a canister vacuum, but is not as light.
Uprights tend to be less expensive than canisters and are easier to store.
Most uprights offer excellent filtration (electrostatic or HEPA type).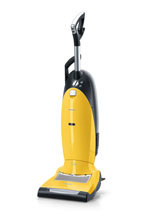 [/symple_accordion_section]
[symple_accordion_section title="Excellent for homes with mostly bare floor surfaces / throw rugs"]
In recent years, canisters have become more popular as non-carpeted floors (i.e. tile, wood, linoleum) have become more popular. Canisters are versatile cleaners that can address a variety of cleaning applications. Canisters with powered brush rolls offer cleaning performance similar to that of uprights.
Canisters are excellent at above-floor / tool cleaning.
With smaller nozzles, canisters can reach far under furniture and all around furniture legs.
Canisters generally have more suction and greater airflow than uprights, but can be cumbersome to carry and store. Though lighter to the touch when cleaning (just a hose and cleaning wand), canisters must be carried around.
Most canisters offer excellent filtration (electrostatic or HEPA type)
[/symple_accordion_section]
[symple_accordion_section title="Ideal for those strictly seeking a lightweight carpet cleaner"]
Ultra lightweight vacuums, or ULW's, are upright vacuums that weigh in the 8-pound category. ULW's are ideal for homeowners strictly concerned about vacuum weight. They can only be used on carpet (no tool or attachment cleaning available). They generally do a good job cleaning but don't offer the filtration performance of full size uprights or canisters.
Excellent lightweight feel for using or carrying.
Filtration performance limited to filter bag performance (no electrostatic or HEPA filtration).
No on-board tools–requires compact canisters for tool, or above floor, cleaning.
[/symple_accordion_section]
[symple_accordion_section title="Highly versatile all-around home cleaners"]
Multiple Surface Vacuums, or MSV's, are a new cleaning category of vacuum cleaners. They are as light to use as power brooms but offer upright and canister cleaning performance and power. MSV's are a good primary vacuum choice for smaller home environments (i.e. apartments, dorms) but are excellent for homes with mostly hardwood floors. MSV's are a perfect secondary vacuum cleaner.
Versatile cleaners ideally suited for hardwood floor cleaning — and also effectively clean carpets.
Lightweight, MSVs are designed to be carried as compact canister cleaners with onboard tools.
Powerful suction and airflow rivals full-size uprights and canisters.
Filtration is good to excellent depending on model.
[/symple_accordion_section]
[symple_accordion_section title="Good for quick hardwood floor cleaning"]
Used mainly as secondary vacuums, power brooms are generally quick and easy to use for hardwood floors. Power brooms are generally weak in suction power and cannot be used on carpets.
Power brooms are strictly limited to bare floor cleaning.
Power brooms are low in cost, durability, and power.
[/symple_accordion_section]
[symple_accordion_section title="Bag vs Bagless"]
Over the past two years, bagless vacuum cleaners have become more popular in the U.S. compared with the traditional vacuum cleaner. Bagless vacuum manufacturers argue that money is saved because there is no need to purchase bags. Other manufacturers argue differently. One thing is true–bagless technology is not fully understood by most consumers and further explanations are needed.
Bagless vacuum systems use a "cyclonic" technology that separates larger dirt and debris from the main air stream and drops these particles into a cup. This cup can then be removed and the dirt dumped into a waste can. The problem with "cyclonic" technology is that only the larger particles of dirt and debris are removed, and the fine dirt exhausts out of the vacuum — back into the room.
To overcome this problem, all bagless machines require filters to capture smaller particles. While it's true you'll save money not purchasing bags, you will have to pay yearly for replacement filters. Bagless vacuum manufacturers recommend changing filters 1-2 times per year. New filters cost $20 to $60 per filter.
In addition to this expense, bagless owners complain about having to dump the dirt cup (releasing dirt particles back into the air), unclog the cyclonic filter cup, wash the inside filters on some models, and wash the dirt cup itself from time to time. Plus, bagless machines on the market are built like disposable machines.
Demonstrations on bagless machines show that they do an impressive visual job of picking up dirt, and the idea of not buying bags is appealing. That's why sales of bagless machines are rising. On the other hand, a year's supply of vacuum bags (12 bags) costs about $20, and are simple to remove and throw away. With traditional uprights, there's no issue of washing filters or dirt cups. Many industry experts predict that sales of bagless machines will continue to grow, but also predict that owners will soon see the realities, difficulties and costs of bagless systems and revert to using vacuum bags.
[/symple_accordion_section]
[symple_accordion_section title="Suction vs Airflow"]
The most effective measurement of a vacuum cleaner's cleaning performance is suction power and airflow.
Suction power demonstrates the actual "pulling" power of a vacuum motor. Strong suction power is needed, for example, when a vacuum cleaner is used on thick, plush, carpeting. Strong motor ability is the only way airflow can continue under obstructed conditions. Conversely, vacuums with weak suction power will "choke" when vacuuming plush carpeting.
Without airflow, there is nothing to pull dirt in and carry it away, which is why suction alone is not effective in carpet cleaning. Some vacuum cleaners have high suction power but low airflow and vice versa. The ideal vacuum cleaner offers a balance of strong suction power and an abundance of airflow: suction power to pull air through plush carpet and sufficient airflow to carry dirt away.
[/symple_accordion_section]
[symple_accordion_section title="Quality Construction"]
The range of vacuum cleaners on the market varies greatly, from an entry-level $59 machine at the discount store to an expensive $1,600 model available door-to-door. The saying "you get what you pay for" couldn't be more true for vacuum cleaners. Some vacuum cleaners are constructed with the expectation that repair will be easy, while the low cost of other vacuums means it makes more sense to simply throw them away. This is one reason for the cost and warranty differences between the two. At the high end of cost are all-metal machines. These are sold through some vacuum stores but mostly by door-to-door sales reps. They are generally expensive in nature and offer a good warranty, but can be heavy to use and carry.
All metal machines offer "dirty air" technology, meaning the carpet dirt and debris go through the fan and motor before proceeding into the cloth filter bag. This makes these machines more prone to fan breakage and motor replacement. At the low end of construction quality are the disposable machines sold mostly at discount or mass merchant stores. With the exception of the motor, most of the materials in these machines are ABS and other types of plastic. These machines are light to use and cheap to purchase, but they don't hold up very well and normally carry just a one-year warranty.
In between these two extremes are cleaners that are a combination of materials. They typically offer metal bottom plates, brush rolls, handle tubes, etc., but also offer ABS plastic housings and handles to minimize their weight. Warranties on these cleaners are normally two years. You can find this type of cleaner at better appliance stores, department stores and vacuum cleaner shops. Your decision on the quality you need rests entirely with your comfort level. Buying a disposable vacuum cleaner may be something you are used to, something which doesn't present much of a cost or time issue to you. At the other end of the spectrum, some folks are looking for quality and are seeking years of product satisfaction. Many of us are somewhere in between.
[/symple_accordion_section]
[/symple_accordion]