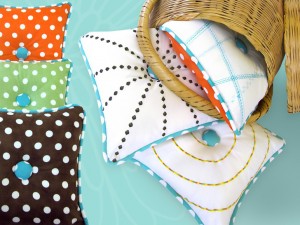 Decorative Stitch Pillows from Sew4Home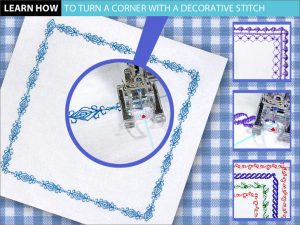 Stitching Turning Corners with Decorative Stitches from Janome
This tutorial shows you three ways to use decorative stitches and how to turn corners.  The tutorial will teach you how to do:
Continuous decorative stitching with a single stitch pattern.
Continuous stitching with stacked stitches.
Creating a single corner.
PDF Instructions for Turning Corners with Decorative Stitching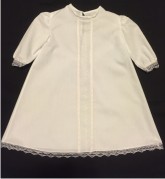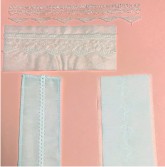 Baby Day Gown Project
The baby day gown lace trim and embroidery band made with decorative machine stitches is a creative way to use those decorative stitches.
The lace was made with one row of zig zag stitches and three rows of decorative stitches.  Water soluble stabilizer is placed on either side of bridal veil netting to secure the stitching.  This gown used rayon embroidery thread to make the lace; however, cotton thread is a good choice.
The embroidered band was made with Omni Motion decorative stitches down the center and wing needle entredeux stitches (zig zag stitches can also be used with the wing needle) for the borders.  Water soluble stabilizer is placed on the back of the fabric.
The best way to keep the Omni Motion stitches in the center of the fabric is to use the Multi-Line Decorative Stitch Foot.  Three strands of hand embroidery thread were weaved in the entredeux stitches.  Click here for further information on How to make entredeux with your sewing machine.