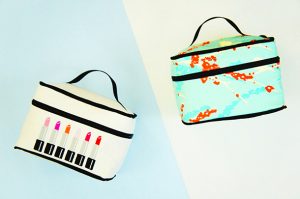 PDF Instructions for Lipstick Case
Lipstick Case Embroidery Designs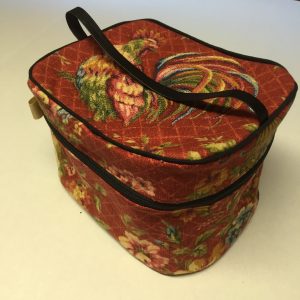 Tips and Hints:  Pam made the case in a lightweight tapestry fabric.  To stabilize she placed a lightweight fusible interfacing on the back of the fabric.  If you make a plastic template of the top and bottom panel your cut will be more accurate.  The Décor Bond used was 808.  The pattern calls for 809, however, the 808 did work.  In place of twill tap for the side tabs, Pam used grosgrain ribbon.  In this example, Pam did not quilt the upper and lower gussets.  Topstitching the zipper works best if you use a walking foot.  Using a directional fabric for the top panel as in the example, a rooster motif, check to make sure the zipper pull is either in the front or back depending on your choice of location.  Pam suggests purchasing a longer zipper than 24."   After insertion, adjust the length.  The quilting pattern on the top and bottom panels is a diagonal diamond pattern.  The rooster motif was free motion embroidered with rayon thread matching the colors of the fabric as close as possible.  The free motion was a zig zag stitch.  The pattern uses bias binding to cover the inside seams.  The binding on one side of the inside seam was attached with the sewing machine using the walking foot.  Pam hand stitched the binding to the other side of the seam for a cleaner finish.  For a flatter and more even edge, use a serger to make the piping.
The sample bag is on view at Whitlock's.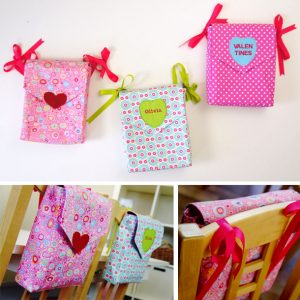 PDF Instructions for Love Letter
Love Letter Embroidery Designs
The designs will download to your computer as a zip file.