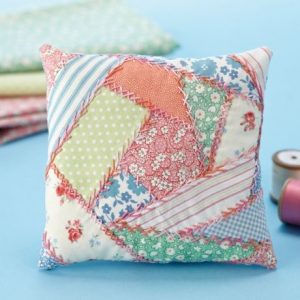 When you think about crazy patch, you may think Victorian.  However, today's crazy patch can be modern. Crazy patch is another great way to use up those scraps of fabric or recycle ties, handkerchiefs, and clothing.
If you do not do hand embroidery, use decorative stitches on your sewing machine.  Try using 12# thread or two threads in the eye of one needle.
Try a Double Eye Needle.  Schmetz makes a Double Eye Needle.  You need to check with your dealer to make sure the Double Eye Needle is appropriate to work with your model of sewing machine.
Schmetz advises the following regarding their Double Eye Sewing Machine Needles
Schmetz Double Eye Sewing Machine Needles for Decorative Sewing & Basting
You may recall these needles from many years ago. They were called "Magic Needles" or "Basting Needles". They have two eyes, one above the other on one shank. Originally used for machine basting, they had disappeared for quite some time, and have now been re-discovered for decorative stitching! Size 80 only.
To use for machine basting:
Thread the top eye only. Set your machine for a wide zig zag stitch, and the longest stitch length possible. Also reduce your upper thread tension. The sewing hook will catch the thread on the right needle swing and skip a stitch on the left needle swing, producing a basting stitch twice as long as your machine's stitch length! Twice as easy to remove!
For decorative stitching:
Pass one thread through the top eye, one thread through the bottom eye. You will need to use a stitch width of about one half of your maximum stitch width. You will also need to move your needle position to the far right so that your decorative stitch is stitching along the right hand side of the presser foot opening. If the thread in the upper eye is skipping on the left side, you need to reduce your stitch width further. A little experimenting will produce some really interesting results!