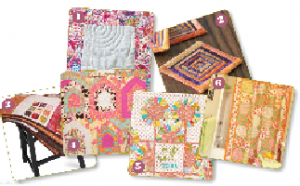 This Ebook from Quilting Daily contains 6 modern quilt blocks.  Choose one or choose all to make.  The eBook includes, Linen Square, Scrappy Log Cabin Coasters, Rubik's Crush, The Birdhouse Rock, A Dotty Garden, and Quilted Shower Curtain.
The Linen Square Quilt has a finished size: 66″ × 95."   Quilt designer, Siobhan Rogers states "… that linen really shows off machine quilting. This quilt features circular machine quilting on the square quilted blocks."
The Scrappy Log Cabin Coasters are 4″ x 4,"  All you need are scraps at least 1″– 1 1⁄2″ wide.
Rubik's Crush finishes at 55″ x 77."
The Birdhouse Rock finishes at 65″ x 50″ and templates are included.
A Dotty Garden finishes at 63″ x 63″ and also includes templates.
For something different try the Quilted Shower Curtain.  The curtain finished at 82 7/8″ by 82 7/8."  TIP:  To measure for a new shower curtain, you need to first measure from the underside of the curtain rod to about an inch above the floor. This will determine the proper length for the curtain. The standard shower curtain length is 70 or 72 inches long.  However, read the instructions first to understand the construction and the actual fit size for the shower rod.
PDF for 6 Modern Qults from Quilting Daily
You can also find this eBook at quiltingdaily.com.