Wingdings are letters and numbers turned into a variety of symbols.  Once you choose the Wingdings Font Text and apply the letter or number associated with the Wingding, the associated icon will appear.  Use the Wingding Fonts to create designs.
Example: Choose the snowflake Wingding and copy the snowflake multiple times and make this design.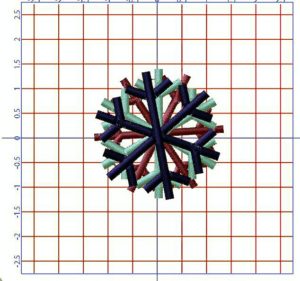 First obtain a copy of the Wingdings Icon Chart on our Pinterest Artistic Digitizer 1.5 Board at https://www.pinterest.com/whitlockssew/artistic-digitizer-15/
Locate the snowflake Wingding on the chart. The letter associated with the snowflake Wingding is a capital T.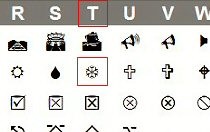 Next insert the text code (capital T) in the Text box.
Go to Tools Tool Bar > Lettering > Text. The Tools Option Bar will drop down.
Choose Wingdings in the Font Name Click in box and scroll to Wingdings.
Place a capital T in the Text.  The snowflake icon will appear in the hoop.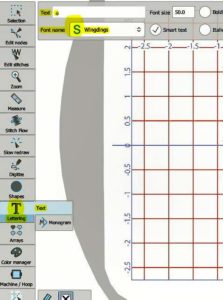 If you have questions, please leave your question in the Comment Section.