While there are a number of ways to sew a hand look stitch on your sewing machine, the instructions from JanomeLife may be of help to you. Your sewing machine may need a slightly different adjustment as described in the JanomeLife article.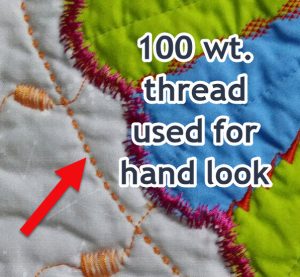 The hand look stitch technique is not just for quilts. Try the technique on towels or garments and use as a decorative stitch. In this image 100 wt. thread to match the fabric was used in the needle. The thread you want to show is in the bobbin. In the image, it is the orange thread.
For more information:  Click the link to JanomeLife Hand Look Quilting
This video might also be helpful.