There is an update to the Janome AcuStitch software.
This update will only work on computers with a previously installed version of AcuStitch. AcuStitch is a separate software program that works with various Janome sewing machines. The updated version now includes the new Janome Continental M17.
What is in the update?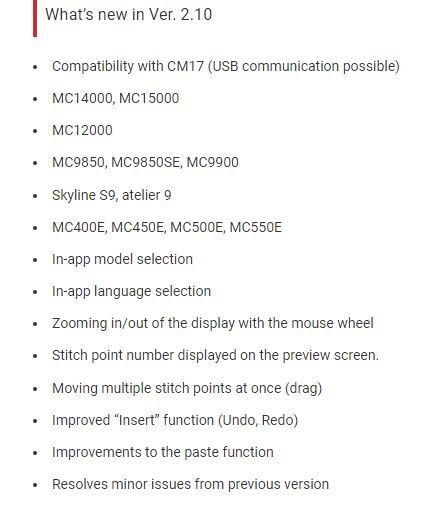 To check your version, click on the circular icon and then click on Version in the dropdown list. The version should read 2.10.

This is what the new tab bar will looks like in Version 2.10.

The new update is 2.10. You can go to the Janome Global site to locate the update. Link for AcuStitch Update
Be sure to read the installation instructions first and the computer requirements. AcuStitch will only work on Windows and if a previous version of AcuStitch is installed on the computer. Don't forget to select your sewing machine so the correct templates become available for your sewing machine. You can always change the sewing machine model in Settings.
After you click on the .exe file, you may be advised one or more applications are missing from your computer. These applications need to be added first. Install the applications as indicated (included with the update) and restart your computer.
You need to go back into the downloaded .exe file and click on it again, so it will now install update 2.10.
A version of Stitch Composer is included in the stand alone software. There is also an update for Stitch Composer. Follow the same directions as above and download the .exe file from the Janome Global website when you download the AcuStitch update.
Link for Stitch Composer Update
If you have any questions or comments, please email me at pamela@nullwhitlocks.com.
See Also:
This video is from a previous Post. While I made this in an older version, the same techniques apply.