Preserving Paper Patterns for Multiple Use
Using a favorite tissue paper pattern only to make the paper pattern unusable from multiple uses can be frustrating. You can use tissue paper patterns numerous times with a minimum of tear and wear on the tissue pattern. The freezer paper method is excellent for preserving the pattern pieces you use multiple times.
Supplies:
Tissue Paper Pattern Pieces
Freezer Paper
Iron
Paper Scissors
Single Hole Punch
Steps:
Cut out pattern tissue pieces
Iron pattern pieces on freezer paper
Cut out pattern pieces on freezer paper
Mark darts and notches
Freezer Paper
I suggest using a wide-roll freezer paper. There may be brands other than Reynolds Wrap; if you search "freezer paper brands," you may find large rolls.

Tissue Paper Pattern Pieces
Save time by cutting the tissue pattern with several pieces in a grouping. Press the pattern pieces with a dry, medium heat iron, removing wrinkles. Then cut freezer paper into an extended sheet length. This way, you can press more pieces at a time and save time. Save your freezer paper scraps to use with small individual pieces.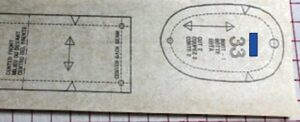 Iron
Set your iron on dry, medium heat. Iron on the tissue as much as possible; using a mini-iron is helpful. Wipe the iron after to remove any residue.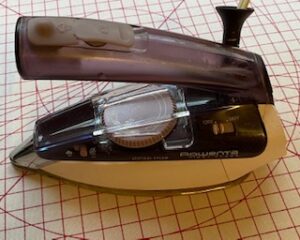 Pattern Placement
Lay the freezer paper shiny side up on the ironing board. Note:  Make sure the iron is set on medium dry heat.

Make sure to press the corners.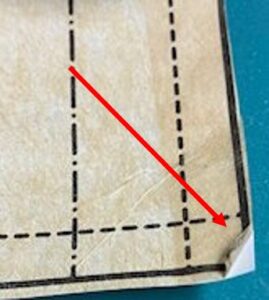 Cutting Freezer Paper Pattern
 Use paper scissors. I mark my scissor, so I do not accidentally use the wrong ones.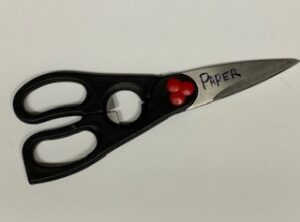 Cut out the pattern pieces on the outside line. I tend to cut just a minimal amount outside the line.

Mark Fabric
It is easy to mark darts and notches using a few simple steps.
Using a hole punch, punch a hole at darts and notches.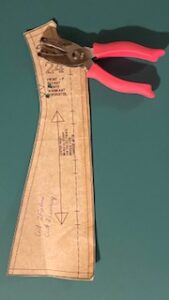 Use a removable marking pen in the hole to mark the fabric. Frixon® is my favorite.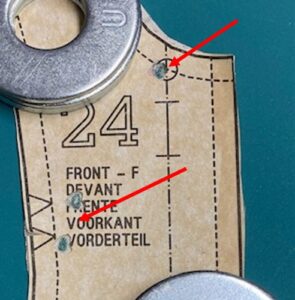 Place a straight pin in the hole through both layers to mark two layers. Carefully flip over the fabric and mark at the pin. If marking two layers, I suggest cutting the pattern piece with the right sides together.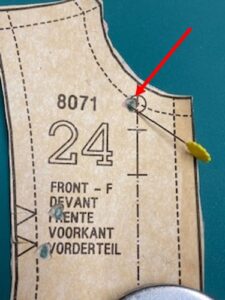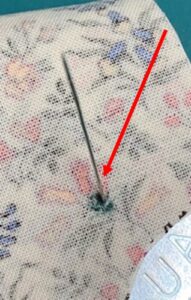 Fabric Water Shield
There is another way to stabilize a tissue paper pattern. You can spray the tissue paper pattern piece with a fabric water shield product such as Scotch Guard®.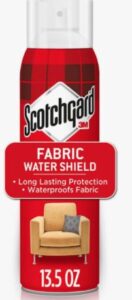 Heavily spray the tissue and hang to dry. Be sure to spray in a well-ventilated area.
The fabric water shield method is less durable than the freezer paper method.
The comment section is available, and we welcome any comments or questions.
Questions may also be directed to pamela@

null

whitlocks.com.
*Due to computer viruses, security issues, and changing websites, search phrases are provided to help you locate products and more information.