If you would like a printable copy of a Serger Thread Guide, click on the link.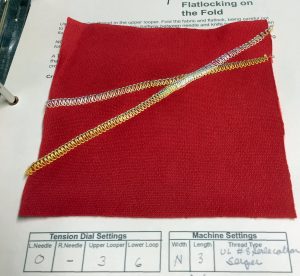 Make a sample book so you always have your serger settings readily available.  You only need paper and a three-ring notebook.  Place the name of the technique, general information on the technique.  You might want to list reference books with pages that explain the technique.  Be sure to include all your tension settings, any special notes and general machine settings.
Serger Specialty Edge Trim
The sample jacket is made from fleece.  The crochet thread in the sample is a #5 Aunt Lydia's Fashion Crochet Thread.  It is necessary to test your fabric and settings.  Results can vary depending on your machine and tension settings.  The settings shown here are guidelines.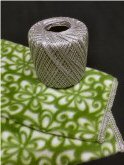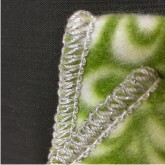 Right Needle:  Top stitch thread. Match thread to fabric as close as possible. Tension is set for normal setting for your make and model serger.
Upper Looper:  Crochet #5. Use decorative, contrast or matching crochet thread.  Tension is set for 0. Leave out of tension disk.
Lower Looper:  Serger thread to match fabric.  Tension is set for normal setting for your make and model serger.
Stitch Length: A long stitch 5.0 or higher.  The crochet thread is thick and the longer stitch is needed to leave space between the loops.
Cutter set for a wide width.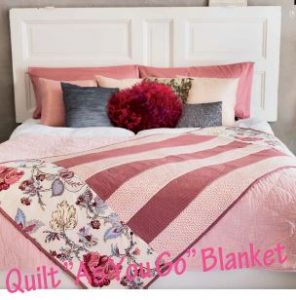 It is sew fast and so easy to quilt-as-you-go with your serger.  This is a great way to use up scraps of fabric and batting.  The front and the back of the quilt can be different fabrics.
PDF Instructions for Quilt-As-You-Go Blanket