Using Machine Embroidery and Printed Fabric Patterns
Commercially printed patterns and pattern software are not the only options available to produce doll clothes. Machine embroidery and printed fabric designs are also an option.
Machine Embroidery Designs
There are companies producing designs for use on an embroidery machine. Many designs stitch out not only an embroidery design but also the outline of the pattern pieces.
One company is called Sisters In Stitches. You may still be able to still find a selection of this software on Amazon, Etsy, or eBay. I mention the Sisters In Stitches to show you there is this type of option. Search for "ith doll clothes embroidery designs"* or "in the hoop doll clothes embroidery designs"* for more options. When searching Etsy, I can see a variety of single designs. While I used a CD, many of the designs, as on Esty, are downloadable. There is also a company called pixiefaire.com which has downloadable designs. Pixie Faire also has a variety of free designs. You might try a free design to see if you like the process before purchasing designs.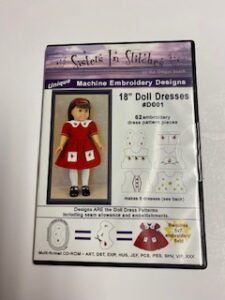 I made this in the hoop with a Sisters In Stitches embroidery CD.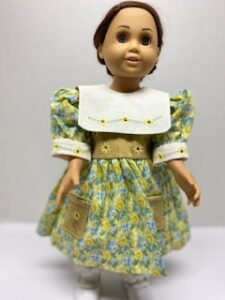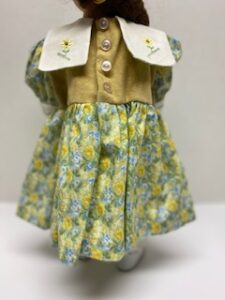 Another company that has in-the-hoop designs is Martha Pullen. I made these using designs included in the Martha Pullen Embroidery Club. These designs can be found on the website www.thesewingcollection.com.  The Sewing Collection Website
They may also have some individual designs for sale.
I made these two dresses from Embroidery Club designs.
This design was included in the 2014 Embroidery Club.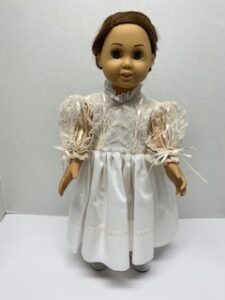 This design was from the 2011 Embroidery Club.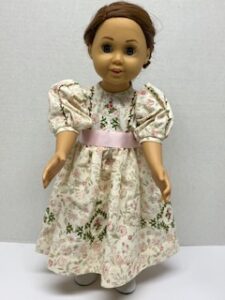 The Doll Club
You can also register for The Doll Club on the Sewing Collection website. You might want to investigate this option. While these are not in-the-hoop designs, you might like to take a look. A new Doll Club for 2022 is scheduled to start in August 2022.
I made these two outfits included in The Doll Club.
This is from the 2019 Doll Club.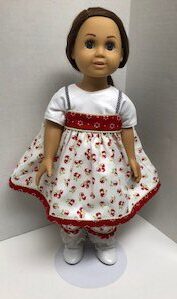 This is from the 2021 Doll Club.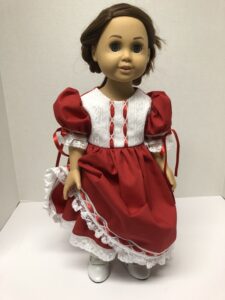 Printed Fabric
Another option is using designs printed on fabric. This is a quick and easy way to make doll garments; all you need to do is cut out and sew. Also, a great way to introduce young people to sewing.
You can search "Let's Play Doll"* for possible options still available from www.firetraildesigns.com.  Fire Trail Designs Website
When on the Fire Trail Designs website, search the word "doll."   You can also search "preprinted fabric doll patterns."* The image below was made from one of the doll fabric panels.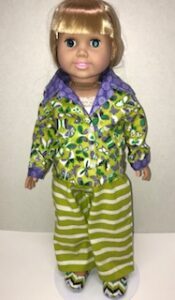 Related Posts:  Pattern Making Software for Doll Garments
The comment section is available, and we welcome any comments or questions.
Questions may also be directed to pamela@

null

whitlocks.com.
*Due to computer viruses, security issues, and changing websites, search phrases are provided to help you locate products and more information.